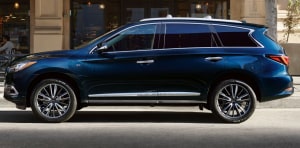 Drivers in the Portland, Beaverton, and Lake Oswego area shopping for an authoritative SUV should look at the Infiniti QX60 or the Buick Enclave. Both vehicles offer a degree of luxury as well as a firm command of the road, but each vehicle offers something different for their drivers.
In this vehicle comparison, we're going to show you the similarities and the differences between these comparable vehicles. We'll focus on engine efficiency, technology and entertainment, and safety ratings. By the end, you'll have a better idea as to which vehicle you want to test drive.
Infiniti QX60 vs. Buick Enclave Engine and Fuel Efficiency
The 2016 Infiniti QX60 features a 3.5-liter V6 engine with an electronically controlled continuously variable transmission (CVT). The Buick Enclave features a 3.6-liter V6 engine with a six-speed automatic transmission.
In terms of fuel efficiency, the QX60 gets an EPA-estimated 21/27 city/highway mpg, which is much higher than the fuel economy of the Buick Enclave at an estimated 17/24 city/highway mpg. This is most likely a result of the CVT in the QX60, which provides powerful acceleration without wasting fuel. Another bonus is that the CVT has fewer parts, and repairs are less costly than standard automatics.
Technology and Entertainment
Both the Infiniti QX60 and the Buick Enclave feature a six-speaker sound system that delivers audio from the AM/FM radio and the CD/MP3 player. They also have Bluetooth®, which allows you to sync your phone with the vehicle's sound system so you can make and receive hands-free phone calls. Drivers can even play music from external media devices through the auxiliary input or the USB port.
Although these vehicles have similar amenities, the Infiniti QX60 features a Radio Data System, which not only displays the specific station that's playing but also the current artist and song.
Safety Ratings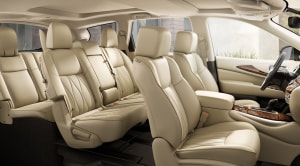 Looking at safety ratings, the Infiniti QX60 and the Buick Enclave both received overall five-star ratings in National Highway Traffic Safety Administration (NHTSA) crash tests. Each vehicle also performed well in their respective crash tests categories.
Although their NHTSA crash tests seem similar, there's a huge difference with their Insurance Institute for Highway Safety (IIHS) crash tests. According to the IIHS, both vehicles received good ratings, but the 2016 Infiniti QX60 was voted a 2016 Top Safety Pick+. For a vehicle to earn this title, it must offer great crash avoidance and advanced to superior front crash protection.
Since the Infiniti QX60 offers superior front protection, it was awarded the title. The Buick Enclave performed well but not well enough to earn the same title. This is most likely because, according to the IIHS, the Enclave only offers basic front crash protection.
2016 Infiniti QX60 vs. 2016 Buick Enclave
In this vehicle comparison, we showed you the key features of the Infiniti QX60 and the Buick Enclave. You learned that the QX60 offers a more fuel-efficient engine due to its CVT. You also learned that their technological amenities are similar, but the QX60 offers a little extra with the Radio Data System.
You even learned about the safety ratings of these two comparable vehicles and that the QX60 was voted a Top Safety Pick+ by the IIHS, but the Enclave wasn't. In short, you learned that the Infiniti QX60 offers more for you and your passengers.
Schedule your test drive of the Infiniti QX60 today at Beaverton Infiniti. We're conveniently located at 9500 SW Canyon Road in Portland, OR. Our team of friendly and professional sales specialists is here to assist you Monday through Saturday from 9 am to 7 pm and Sunday from 10 am to 5 pm. We look forward to seeing you!