Infiniti has set the bar high when it comes to molding a sedan that's both high performing and fuel efficient, and the new 2017 Q50 will not disappoint.  For 2017, the Q50 receives a number of enhancements, better suspension technology, and some impressive new engine options.
New Powerplants Available
Infiniti has introduced three new engines with the 2017 Q50. The new engine lineup consists of the fuel efficient 2.0 liter inline 4 turbocharged engine, the more powerful 3.0 liter V6 twin-turbocharged engine, and the finely tuned, larger turbo 3.0 liter V6 twin-turbocharged engine.  The power output is impressive with the 2.0t at 208 horsepower with 258 lb-ft torque, the 3.0t at 300hp with 295 lb-ft torque, and the 3.0 twin-turbo at a quick 400 horsepower with 350 lb-ft torque. All engines are part of the new "VR-series" that has been specifically developed to deliver optimal power and torque, alongside greater fuel efficiency. Specific to the Red Sport engine is a unique turbocharged blade design and a turbocharger speed sensor that works together to produce the impressive 400hp. All engines are available in RWD or intelligent AWD variations, and come paired with Infiniti's smooth shifting seven-speed automatic transmission.
Q50 2.0t
AWD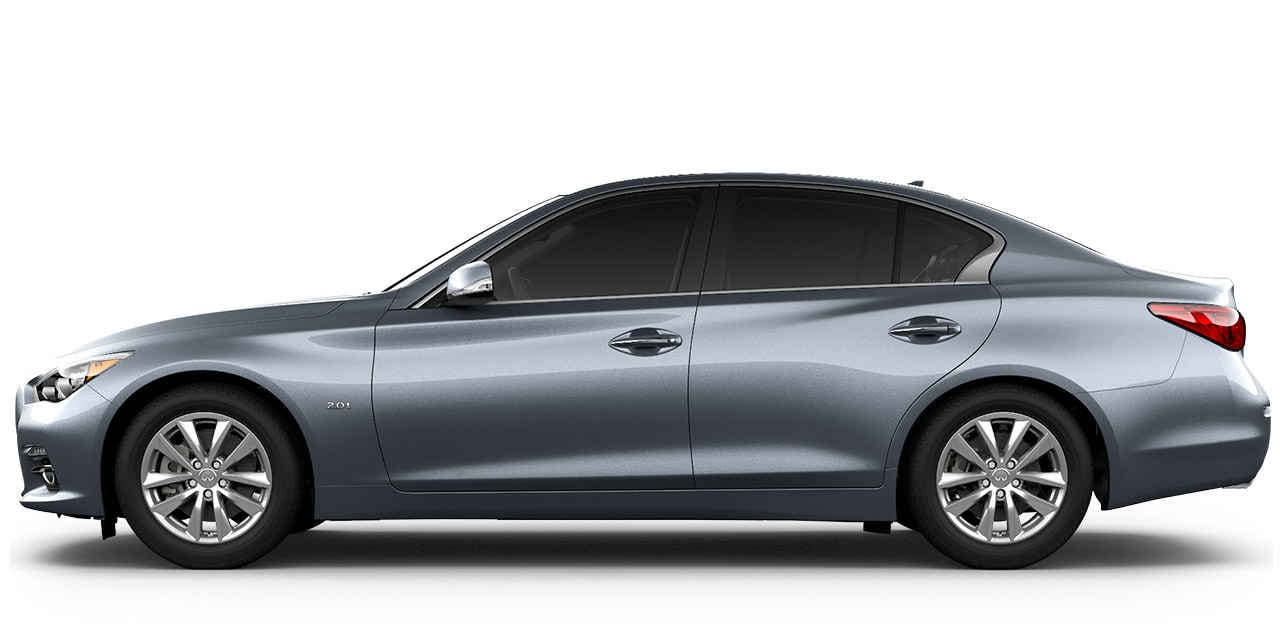 $35,950 Starting MSRP
---
208 hp 2.0-liter I4
258 lb-ft @ 1500-3500 rpm
28/22 Highway/City MPG
---
Engine
2.0 liter (1,991cc) turbocharged 16 valve I4 engine, aluminum block and head
Q50 3.0t
AWD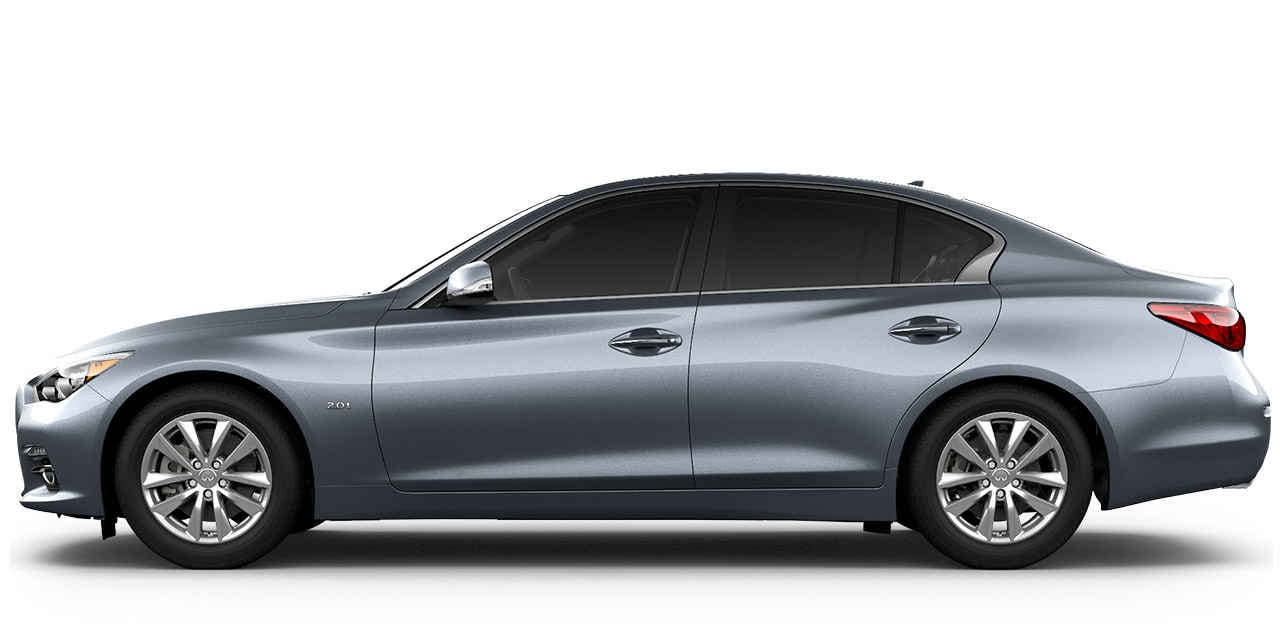 $41,900 Starting MSRP
---
300 hp 3.0-liter V6
295 lb-ft @ 1500-5200 rpm
27/19 Highway/City MPG
---
Engine
3.0 liter (2,997cc) twin-turbo 24 valve V6 engine, aluminum block and head
Q50 Red Sport
400 AWD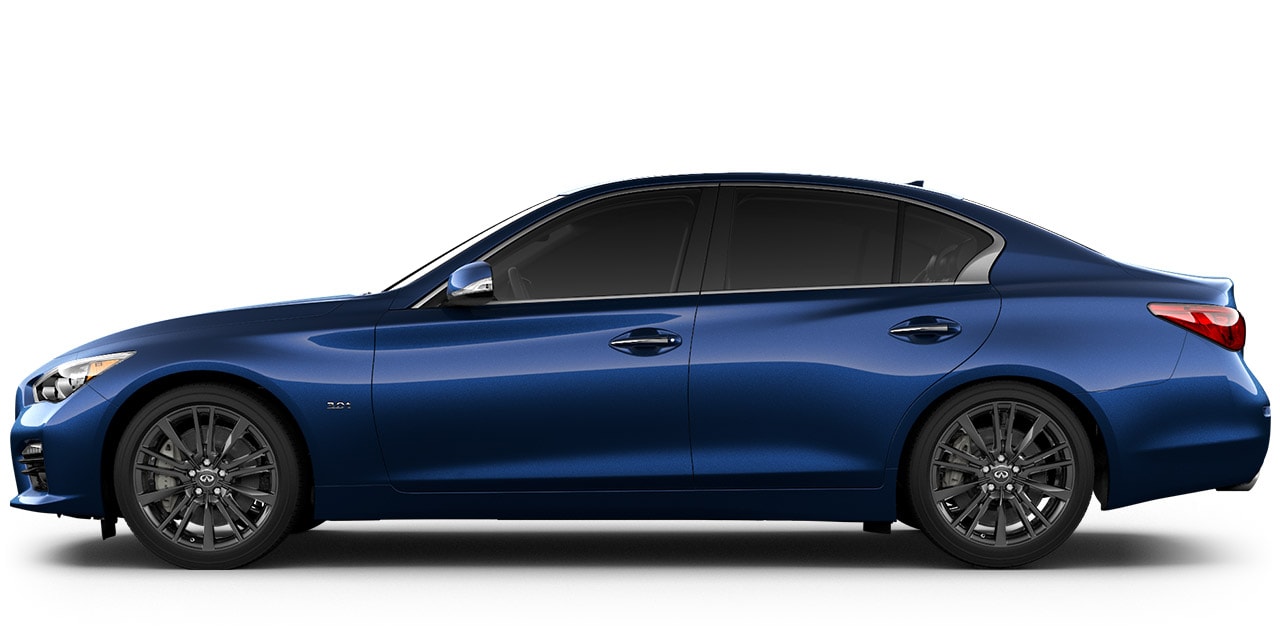 $47,950 Starting MSRP
---
400 hp 3.0-liter V6
350 lb-ft @ 1600-5200 rpm
26/19 Highway/City MPG
---
Engine
3.0 liter (2,997cc) twin-turbo 24 valve V6 engine, aluminum block and head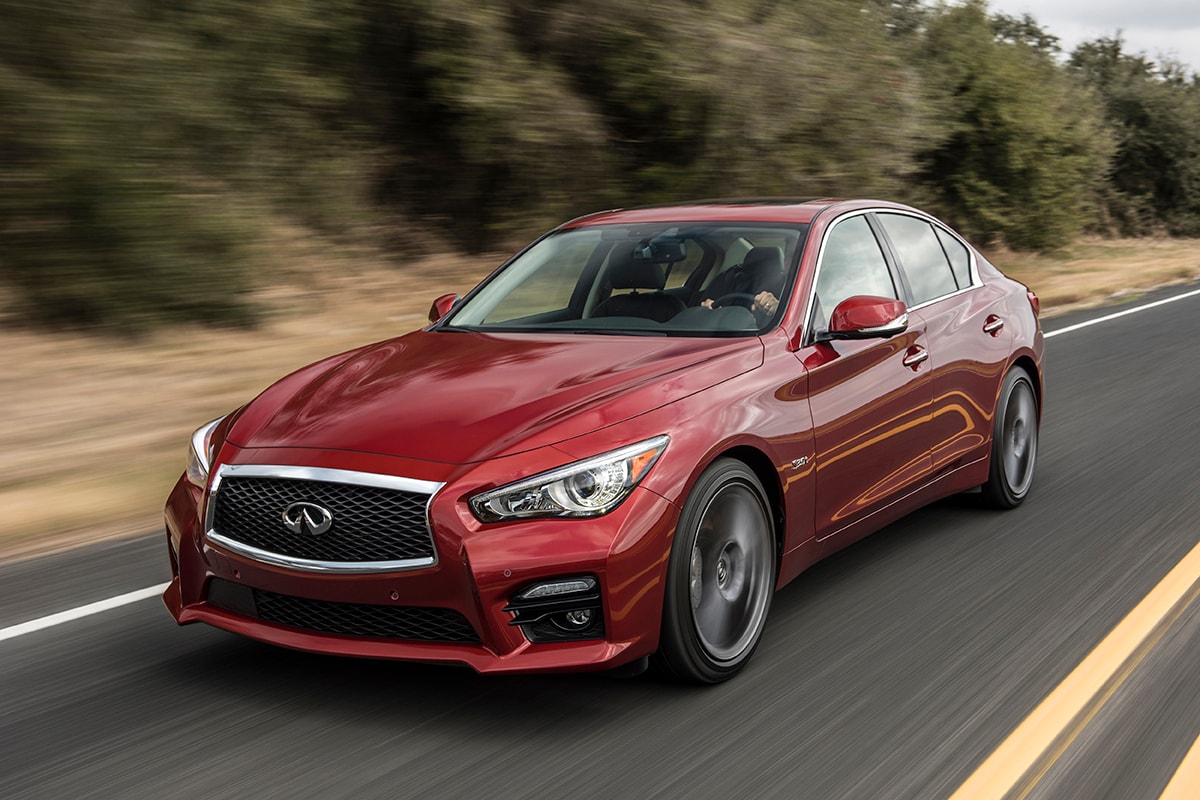 Second-Gen Direct Adaptive Steering
Q50 models equipped with the new 3.0 liter V6 twin-turbo engine, or the hybrid powertrain, are available with the second-generation Infiniti Direct Adaptive Steering. The new system promises improved feedback from the road, greater customization options, and a better driving experience through the use of G-force sensors and accelerometers. As standard, the Q50 3.0 liter V6 comes with Infiniti's Rack Electronic Power Steering. The all-new system provides a linear and in-control driving experience that can be adjusted through the Drive Mode Selector. The Q50 2.0 liter I4 models come standard with the more traditional yet refined speed-sensitive hydraulic electronic rack-and-pinion power steering.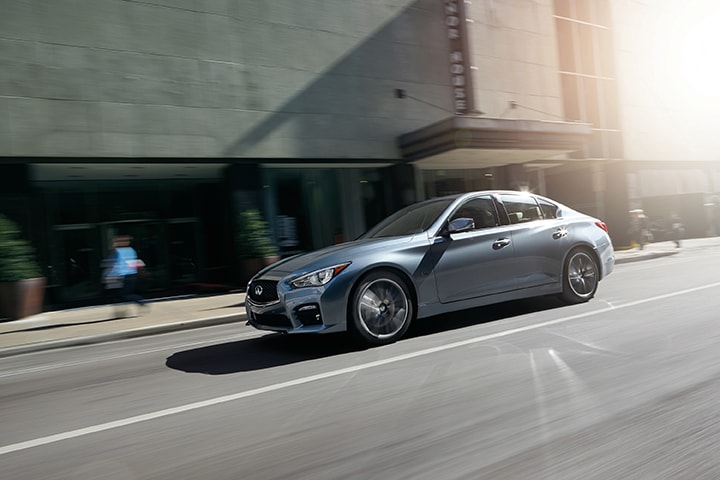 Suspension Innovation
All 2017 Q50 Sport models are upgraded with Dynamic Digital Suspension (DDS) for the first time. Ride comfort and confident performance handling can now be adjusted with the Drive Mode Selector. While in Sport and Sport+ modes the electronically controlled shock absorbers are constantly adjusting to provide ideal performance and a flat ride. In all modes, DDS constantly adjusts the shock absorber valve within a wide range of damping force to control body motion when cornering. It monitors body roll, pitch and bounce rate to restrain body motion for a comfortable, confident and insulated ride in all conditions.
Safety Features & Technology
The new Infiniti Q50 builds on the long list of safety and security technologies already found in other Infiniti models, maintaining the car's class-leading position.
The Technology Package adds Front Seat Driver/Passenger Pre-Crash Seatbelts; Blind-Spot Intervention (BSI); Lane Departure Warning (LDW); and Lane Departure Prevention (LDP) with Active Lane Control. The new Driver Assistance Package includes features such as Forward Emergency Braking (EB); Blind-Spot Warning (BSW); Back Collision Intervention (BCI) with Cross Traffic Alert (CTA); Predictive Forward Collision Warning (PFCW); and Around View® Monitor (AVM) with Moving Object Detection (MOD).
Among other great features added, you'll find High Beam Assist, Auto-leveling Adaptive Front Lighting System, Intelligent Cruise Control with full speed range, Distance Control Assist, Advanced Climate Control System with Plasmacluster and Grape Polyphenol filter. Get more information by filling out the form below.