INFINITI Lease Return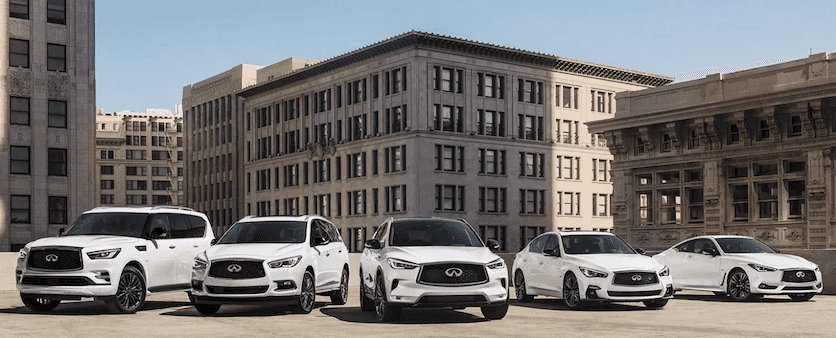 Whether you plan on getting behind the wheel of a brand new INFINITI, purchasing your current model, or simply returning your lease, we at Beaverton INFINITI aim to make sure you have the information you need each step of the way.
INFINITI Financial Services will mail you with details regarding your options and obligations as your lease-end approaches, but we invite you to review our outline of the road ahead.
Steps For Returning Your INFINITI Lease
1. Schedule Your Pre-Return Lease Inspection
Before returning your lease, an independent inspector will assess your INFINITI vehicle's condition free of charge. You will receive a report of chargeable wear-and-use if present.
2. Decide If You Want to Make Repairs
To avoid potential excess wear and use fees, you can make repairs. You may want to consult your insurance agent to determine the best course of action.
3. Make An Appointment With Beaverton INFINITI
Reach out to us at Beaverton INFINITI within 30 days of your lease-end with your decision to return or replace your lease.
At this point, we recommend exploring our INFINITI lease and finance offers for exclusive savings on your next luxury vehicle.
4. Complete A Federal Odometer/Lease Termination Statement
Per federal and state laws, you must sign a disclosure of your vehicle's mileage, which we use to process the conclusion of your account.
5. Satisfy Any Lease Liability Fees/Charges
If applicable, we will send you an End-of-Lease liability statement four to six weeks after you return your INFINITI lease. This will detail any outstanding liabilities, including a disposition fee of up to $395. You may also receive subsequent bills regarding property tax, parking tickets, toll violations, etc.
6. Additional Charges
If you exceed your mileage allowance, you will need to cover additional charges.
Steps For Buying Your INFINITI Lease
We understand if you want to stick with the model that delivered you an excellent driving experience over your lease term. In this case, there is no need for a pre-return inspection. Just let us know your decision, and our dedicated finance team will arrange a payment plan for you.
Contact Us At Beaverton INFINITI, Oregon's Only INFINITI Dealer, For More Lease Information
If you any questions about the lease return process, don't hesitate to contact us at Beaverton INFINITI! We proudly serve drivers throughout the greater Portland, OR area, including Beaverton, Hillsboro, and beyond.