INFINITI QX60 Vs. Nissan Pathfinder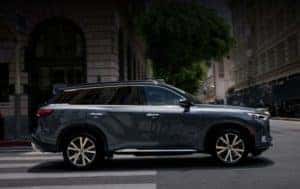 The INFINITI QX60 has long been a favorite choice for SUV shoppers looking for the perfect blend of luxury and utility. But how does it compare to one of its chief rivals, the Nissan Pathfinder? Let's take a closer look at the two vehicles to see which one comes out on top.
Engine Power
When it comes to engine power, the INFINITI QX60 has a clear advantage over the Nissan Pathfinder. The QX60's V6 engine produces up to 295 horsepower, while the Pathfinder's V6 tops out at only 284 horsepower. That extra power gives the INFINITI SUV better acceleration and towing capabilities.
Active Trace Control
Both SUVs come standard with all-wheel drive, but the INFINITI QX60's system is more sophisticated. It features Active Trace Control, which uses sensors to monitor wheel speed and braking input to help keep the SUV going in a straight line. When it detects you're veering off course, it can automatically apply the brakes on one side of the vehicle to help keep you on track. This is a great feature for those who want a little extra peace of mind when driving on winding roads or in inclement weather.
Luxury Features
When it comes to luxurious features, the INFINITI QX60 really shines. It offers standard amenities like heated front seats and a power-adjustable steering wheel, while the Pathfinder makes do with manual controls for both. The QX60's luxurious cabin is outfitted with premium materials and finishes, and its spacious seating provides ample room for both passengers and cargo. The QX60 comes standard with an impressive array of technology features, including a touch-screen infotainment system, Bluetooth connectivity, and a Bose premium audio system, while the Pathfinder has a basic six-speaker setup.
Off-Road Features
When it comes to off-road features, the INFINITI QX60 has everything you need to tackle any terrain. With a powerful engine and a robust suspension system, the QX60 is more than capable of handling whatever you throw at it. Additionally, the QX60 comes standard with a host of advanced safety and driver assist features, making it one of the safest vehicles on the road. The INFINITI SUV's all-wheel drive system is more robust, with a locking center differential that helps it tackle tough terrain. It also offers standard hill start assist and hill descent control, while the Pathfinder doesn't have any similar features.
Shop the INFINITI QX60 at Our Beaverton Dealership
If you're looking for a luxurious SUV that can handle off-roading, the INFINITI QX60 is the perfect choice. It has all the features and amenities you could want in an SUV, plus the added bonus of being able to take on any terrain. Beaverton INFINITI has a great selection of INFINITI models, so come on down and check them out today!